Meet Our Chemtex Crew: Caleb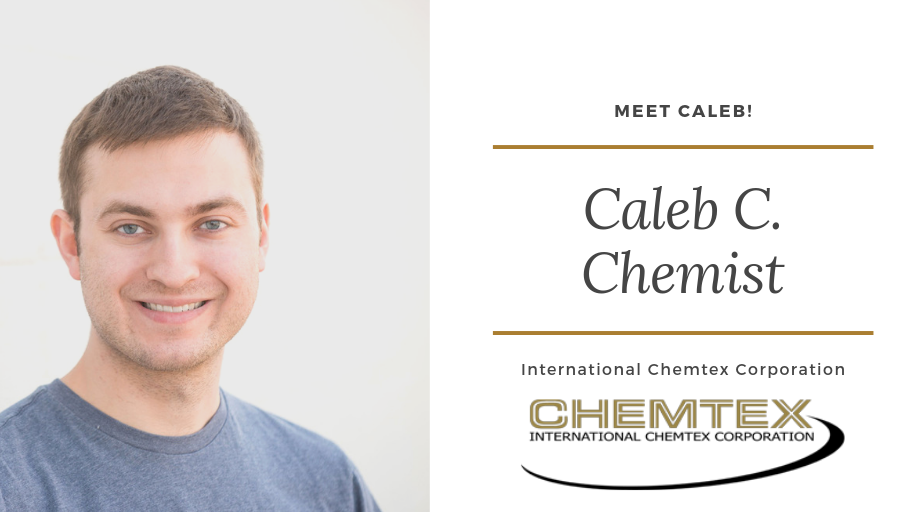 It's no secret that Chemtex does business by our core values: Simple. Focused. Driven. These values drive us to make things simple, clearly understand and meet our customers needs while delivering the best customer service possible.
We wanted to take some time to introduce you to our amazing crew who exemplify these core values every day and help us do what we do! So, with that said, meet Caleb, a chemist at Chemtex. Scroll down to learn a little more about this Chemtex team member from a recent interview!
Please provide a brief history of your Chemtex career.
I started at Chemtex back in 2014 right after graduating from St. Olaf College. I found out I got the job about one week after graduating so it was a relief not to have to worry about the post college job hunt. I am currently a Chemist in the lab which is the same position I started out in, although I've learned a lot more about the job since then. Over the many years I've managed to survive driving through a lot of snowstorms, two lab floods, and one construction job. All in the noble pursuit of SCIENCE!
What do you like most about your job and Chemtex?
I love being able to listen to BBC Radio 1 at work, and it cannot be overstated how nice it is having a separate thermostat control for the lab to control the temperature.
What would your advice be on the key to success?
Coffee, and lots of it.
What's one thing about you that not many people know?
I am a fairly picky eater and this is most exemplified by the fact that I love pickles but hate the outside skin of pickles so I only eat the center and throw away the skin.
Do you have a favorite quote?
"I used to be with it, but then they changed what "it" was, and now what I'm with isn't it. And what's "it" seems weird and scary to me." -Grampa Simpson
If you had to eat one meal, every day for the rest of your life, what would it be?
Steak Fajitas. Sooo good! It's hard to imagine a more fulfilling dish. Also I don't know the full stats but hopefully if it's all I'm eating it would provide me with enough nutritional content to sustain me for a few more years.
What's your favorite book and why?
My favorite book is Stardust, by Neil Gaiman. It's a modern interpretation of a fairytale that tells the story of a man that goes on a journey from home into a forbidden land to find a fallen star. It's funny, whimsical, has exciting action. This book seriously has it all.